Whether you're planning to snuggle up to watch horror movies, can't wait to carve pumpkins, or planning a Halloween party, there's no better way to mark the season than with decorations. Halloween fun. And it's time to get ready for the spookiest night of the year!
Are you running out of Halloween decorating ideas? No worries, this DIY project is a super cute yet easy way to rock up your decorating game and you don't even need a glue gun. Meet the Phantom of the Embroidery Hoop.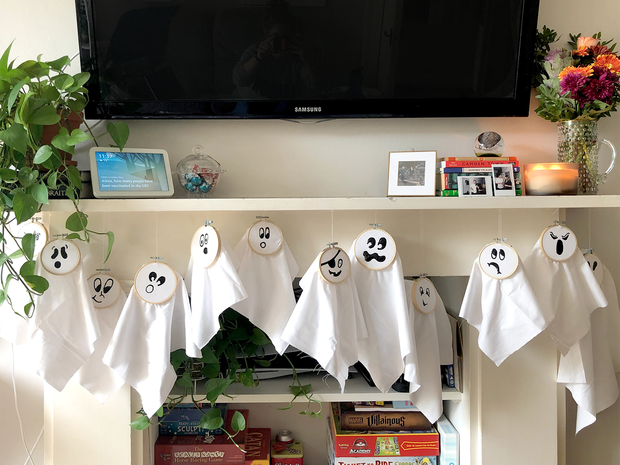 Recommended reading: Everything you need to prepare yourself and your home for Halloween
Why we love these ghost decorations
Besides being the perfect balance between seasonal and adorable, we love that this DIY Halloween decoration is easy to pick up. With just a few materials, you can create ghosts of all sizes with their own personalities. Gather your friends to make decorations with a glass of wine or get the whole family involved!
Make Your Own Ghost Hoop Embroidery Decorations
Materials you will need
To get started, all you need is the following:
embroidery hoops: Small or large, choose what suits your decorating ideas, your interior and where you want to use your ghosts. Our editor Best Buys chose this pack of 10 three-inch hoops and another pack of six four-inch embroidery hoops, but she also made them with larger hoops for a bolder Halloween decor.
A white flat sheet: Any flat, white sheet you're happy to cut will do, but we recommend an inexpensive cotton option like this available on Amazon.
Textile painting: We used this black fabric blown paint to get a uniform look and a bit of dimension to our ghosts. But you can change it according to your vision of the decor.
Scissors
Fishing line, or something comparable to hang your ghost decorations – our editor used embroidery floss.

Create your ghosts: step by step
Cut out the flat sheet. To make our little ghosts, cut out squares about five times the diameter of the embroidery hoop you choose. For example, with the three-inch hoops we used, we cut out 15-by-15-inch squares. Of course, you can adapt the size of the square to your liking or work with the materials you have available.
Place your embroidery hoop. Unscrew the outer ring of the embroidery hoop so that it comes off the inner hoop. Place the inner circle on your work surface then lay the square of fabric flat on it. Position the inner hoop just next to the center of the square, towards one of its corners. Once you are happy with the placement, place the enlarged outer hoop around the inner hoop with the fabric between them with the screw closure pointing to the nearest corner. Tighten the outer hoop and pull on the fabric to remove the curled up areas and pull on the fabric to tighten it.
Add a ghoulish face. Now is the time to get creative! Using the blow paint, draw a funny or scary face to give character to your ghost. If you need a line to follow, first lightly draw your ghost's face with a pencil.
Hang up your decorations! When dry, tie a length of fishing line to the screw fastener of the embroidery hoop and hang them up.
And There you go ! Just like that, you have a new DIY Halloween decoration that will last for years!
Style your new decorations
Along with their ease of manufacture and their advantage in being reusable, we love that these little decorations have the ability to be a versatile addition to your Halloween aesthetic.
A flock of little embroidery hoop ghosts makes for a spooky focal point on the mantle, as our Best Buys editor Kat did. Or spot them around the house on bookcases or wall hooks. Hang a bigger ghost in the stairwell or turn one into a fun Halloween door decoration.
To spread the Halloween spirit, send your Halloween party guests home with a little ghost – maybe even personalize them to reflect your friends and family. Or tie them to a bottle of your favorite beer as a housewarming or hostess gift.
In essence, these easy and inexpensive decorative Halloween ghosts are a fun way to get your spirits up in October!
---
Prices updated on 01/10/2021. We are not responsible for price changes mentioned above.