The most anticipated festival for all Ganesha fans is just around the corner! In trying to keep up with the latest buying practices from the most expensive and sparkling idols, we often overlook the consequences of this uninformed excitement. We ignore the fact that Ganpati Plaster of Paris (PoP) idols take several months or sometimes years to completely dissolve. Let's reduce the burden on Mother Nature and use clay statues painted with lead and mercury free colors!
We suggest some eco-friendly tips that will only add to your stylish interior decorating skills this holiday season:
Ceramic rangoli

It gives your guests a humble yet elegant welcome. Ceramic rangolis also add aesthetic, functional and environmental value to the decor. This modern floor embellishment may also contain diyas in Rangoli and does not involve any synthetic color.
Traditional rugs

In addition to the festive colors, these intricately designed rugs set in front of Ganesh idol, add to the traditional look while you are playing aarti with your guests. You can either complement the subtle color palette and texture you have chosen for your Ganpati, or contrast the same with a vibrant combination!
Artificial flowers
You can use artificial flowers for the decorations. As well as looking almost real, they have the added bonus of keeping the look fresh throughout the ten days of the festival, and if you're responsible enough, for the occasions to come this year!
Fairy lights

Nothing can express beauty in subtlety more than a delicate string of lights. Rotate and mold them into any shape and pattern you creative desire and watch the lights light up your home. Needless to say, these can be reused for your upcoming Diwali decorations! Use these soft yellow lights against high voltage LED bulbs and give your living room decor a stylish and eco-friendly touch!
Colored pencils

You can try this Ganesh Chaturthi themed decor. One of the themes you can try is decorating with crayons is a great and unique idea. It denotes the power of knowledge and writing and Ganpati's blessings are what one seeks for it. And what more can we say, pencils are also environmentally friendly objects.
Plants

Yes, go green and collect all these gorgeous plants to welcome Ganpati to your home this year! You can choose to create a background with tall plants like bamboo sticks, pine trees, and palm trees. To create beautiful wall hangings, you can choose between Mona Lisa Red, Quicksilver, Scindapsus etc. Create pillars and sit creative planters with flowering plants.
Dupattas

Show some love for colors and create an awning of colorful dupattas. You can embellish it further with fairy lights and marigold garlands or garlands.
Traditional decorations you can use
An interesting way to decorate Ganpati Sthaan, you can also use the essentials of the puja for Ganesh Chaturthi.
Mouli

Mouli can be used to cover temple pillars or as a string to hand over various decorative items. It is considered auspicious and is an essential item for any puja. It is also environmentally friendly.
Kalash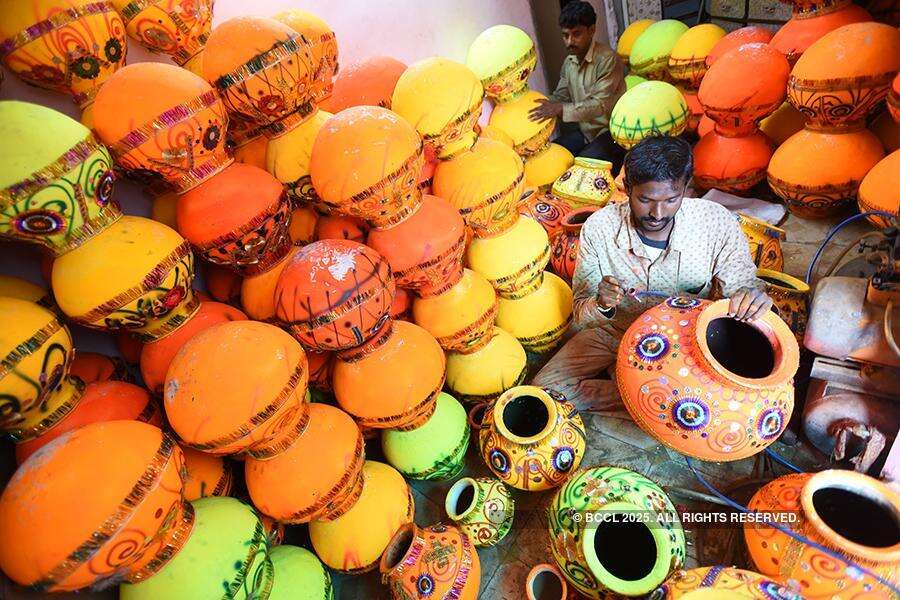 Take inspiration from Bollywood and try a decoration entirely on the "kalash" theme. Do you remember Jitendra and Sridevi in ​​the popular Himmatwala song? Recreate the magic with small mud matkas or kalash to decorate your ganpati sthaan this year. These colorful matkas are readily available and because they are made of mud, they are easily soluble in water and do not contaminate our bodies of water.
Betel leaf

The betel leaf or paan ke paw is another essential puja during Ganesh Chaturthi. You can create a canopy of these leaves which is auspicious and looks refreshing too. You can also bead betel nuts to create an innovative awning.
Diyas

Last but not the least, mud diyas are extremely beautiful and light up the Ganpati sthaan like nothing else does. They are eco-friendly and look gorgeous too. You can decorate them or paint them in different colors and welcome your Ganpati with these bright diyas.
Fresh flowers
Nothing beats the pleasant scent of fresh flowers and the beauty they add to a space. Marigold or rose garlands and garlands, you can make wonderful awnings, rangolis and other decorations with these and make our Vighn Vinayak happy.