Planning a wedding can get very expensive, very quickly. But, DIYing some table decorations for your big day can take some of the financial pressure off.
While you probably won't be sewing your own dress anytime soon, you might want to handcraft some beautiful (and inexpensive!) Handmade wedding centerpieces. A beautiful centerpiece really brings the room together and wedding guests are always happy to bring them home after the event.
Plus, creating your own wedding centerpieces can be fun, and you won't have to do it alone. Grab your bridesmaids, bring a few bottles of wine, and make it a bonding event. Together, you can DIY some pretty stunning wedding centerpieces that will wow your guests and give you the chance to bring a personal touch to your wedding – all within your budget!
Here are 15 of the best inexpensive DIY wedding centerpiece ideas that are just as easy to make as they are affordable:
1. A succulent centerpiece for nature lovers.
What you will need:
If you want to bring a more natural vibe to your wedding, this luscious centerpiece will do the trick. You will need a ceramic pot, a dish for the bottom and some potting soil. Don't forget the succulents! Just pot and place in the center of the table.
2. Centerpiece of vintage books and mason jars for a rustic look.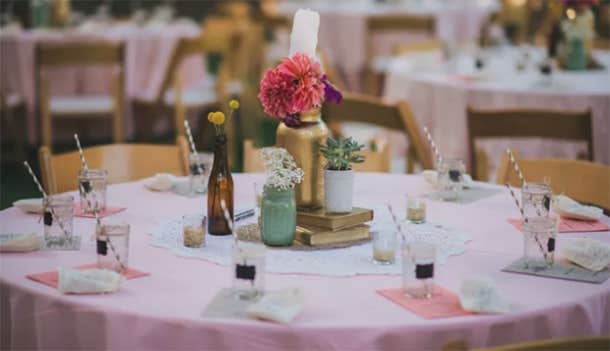 via the node
What you will need:
For all bookworms and vintage buyers, this is the perfect centerpiece. It's chic, fun, and a little inspiring too. In addition to books and mason jars, all you need is a few splashes of paint and a few fresh flowers. Super easy!
3. A glass ball candle holder to evoke a feeling of romance.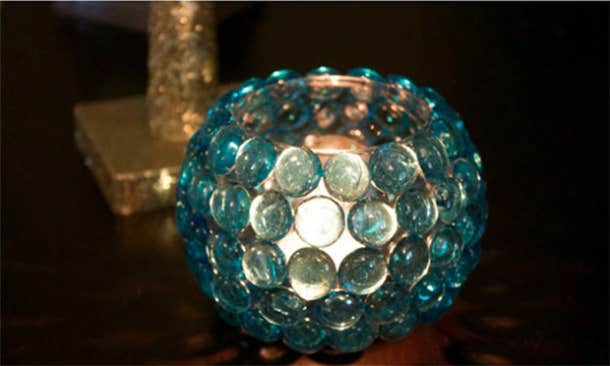 Going through Elegant wedding invitations
What you will need:
Want to bring some magic to your wedding? These centerpieces create the romantic atmosphere you are looking for. This is a super simple DIY centerpiece that will have a big impact on the room. Just glue glass gemstones around each candle holder, and voila!
4. Sparkling flower vases for a wedding that screams "fabulous!" "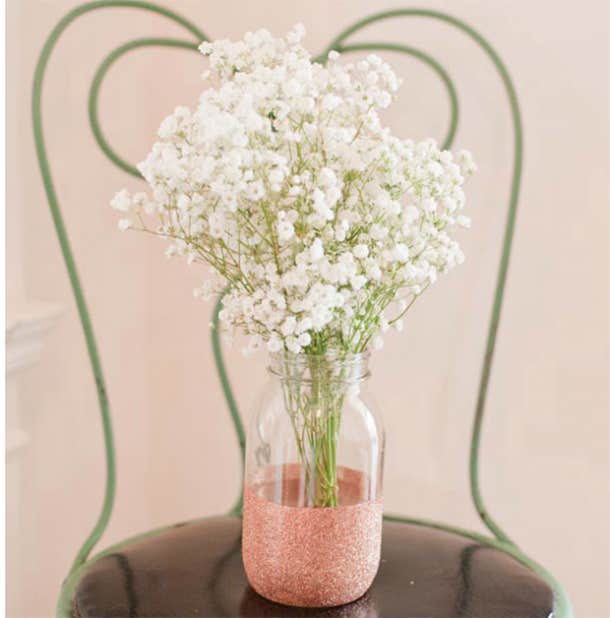 Going through Elegant wedding invitations
What you will need:
A little glitter can go a long way, especially as part of your centerpiece style. These are simple, easy to do, and only concern a few things. Change the color of the glitter and the selection of fresh flowers to suit your theme.
5. A succulent "table runner" for a fairytale wedding.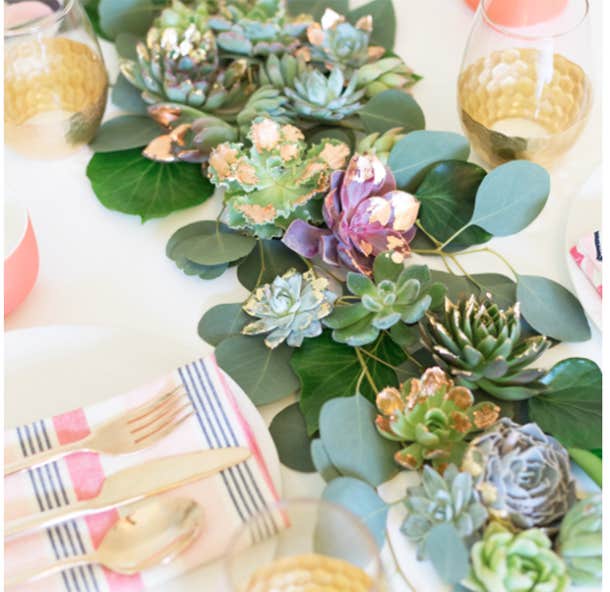 via Belle Indeed
What you will need:
These natural DIY table runners are definitely striking pieces. They will transform your wedding tables into a scene straight out of a woodland fairy tale. The leaves can be real or fake, but be sure to buy succulents that are the real deal. You can paint over gold and add flower pieces or glitter as you see fit.
6. Cork vase for a rustic touch, inspired by your favorite drink.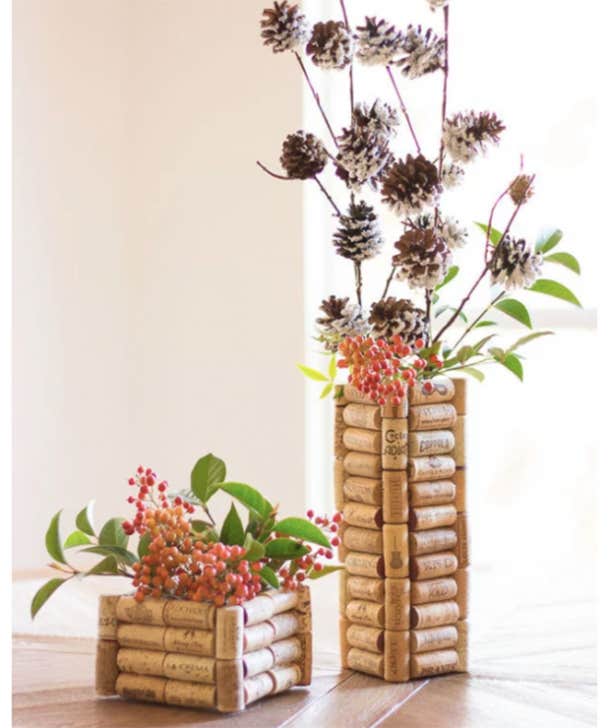 via Mywedding.com
What you will need:
These rustic centerpieces are perfect for all wine lovers. It can be a bit difficult to drink all this wine before the wedding, but you can definitely give it a try. If you can't handle all the wine, you can just buy them in bulk. Simply glue the caps on the vase and add your favorite flowers inside.
7. Sand art terrarium for brides who are in contact with their inner child.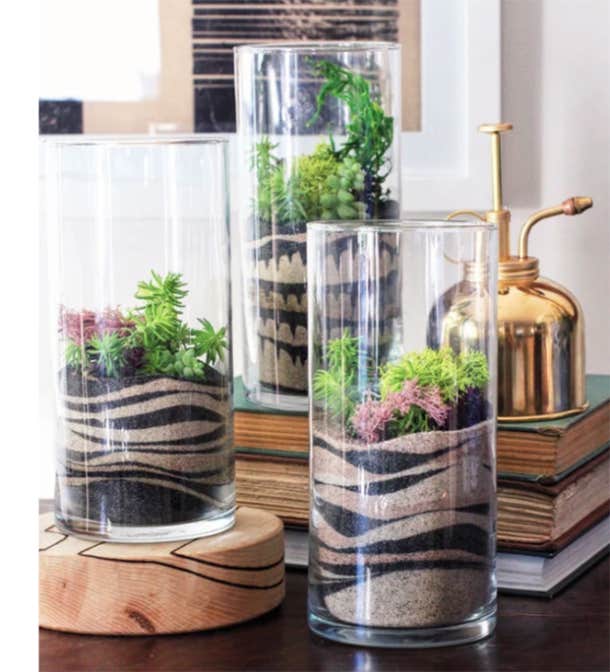 via Mywedding.com
What you will need:
What could be better than making art on sand? Use it as a beautiful wedding centerpiece! Here is your chance to create a fun task for your bridesmaids too! Put the sand in the vase in a design you like.
8. Simply elegant wine glass candle holders.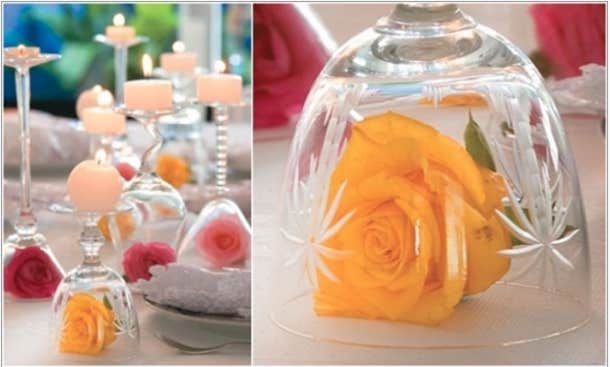 via merchandise house design
What you will need:
This simple centerpiece lets you use wine glasses in a whole new way. Just turn it over and put a candle on it. You can put anything inside the wine glass, so choose something cute that goes with your theme. Get creative with this one.
9. Vintage bird cage filled with flowers for a delicate touch.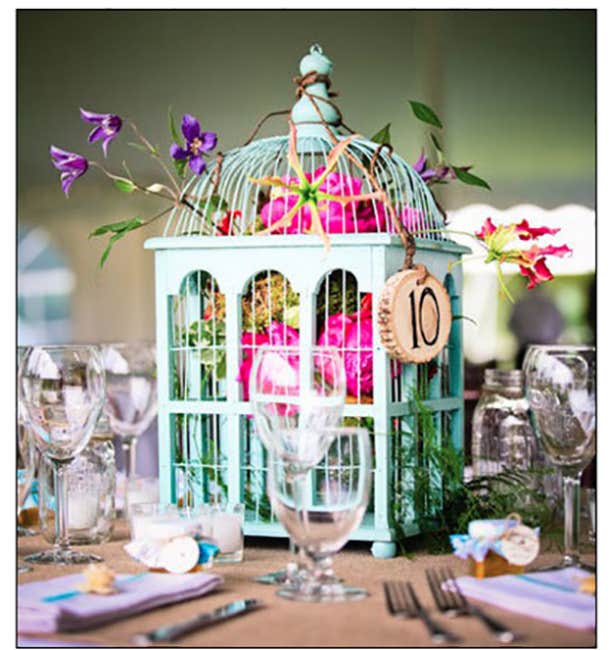 Going through Bride's Guide
What you will need:
A fairytale wedding needs centerpieces that match the bill. These vintage bird cages will really set the scene when you fill them with colorful flowers. Paint them in a color that matches your theme and choose fresh or faux flowers for the interior.
10. Golden candles in wood vases for a dramatic touch.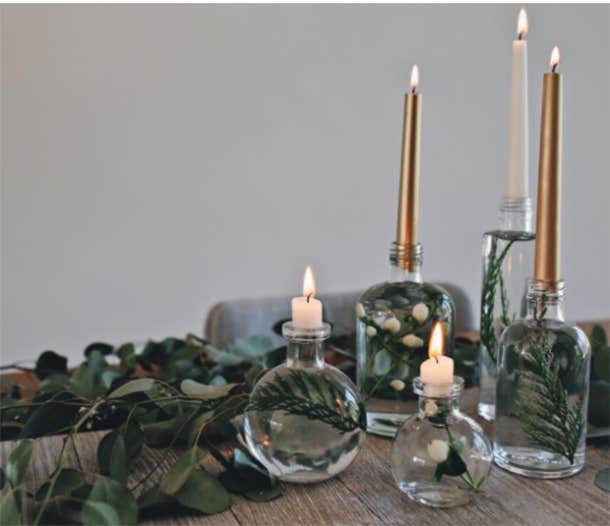 via DIY network
What you will need:
These elegant centerpieces create the perfect woody theme. They are beautiful, yet sophisticated, and are absolutely painless to make. Your guests will not be able to stop talking about them!
11. Low-budget eco-friendly for classically styled brides.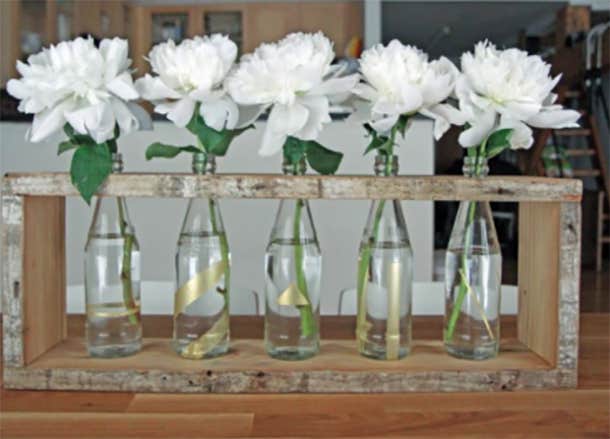 via HGTV
What you will need:
Ask your future gentleman to help you out with this stylish, pretty look that won't require tons of flowers, either. Plus, it's a centerpiece unique enough to grab attention without taking everyone's eyes off you. Your man will need a handsaw to cut the wood, a few nails and a hammer to form them into a square frame. Then drill holes at the top so the glass bottles can fit through.
12. A hanging garden for a fanciful wedding.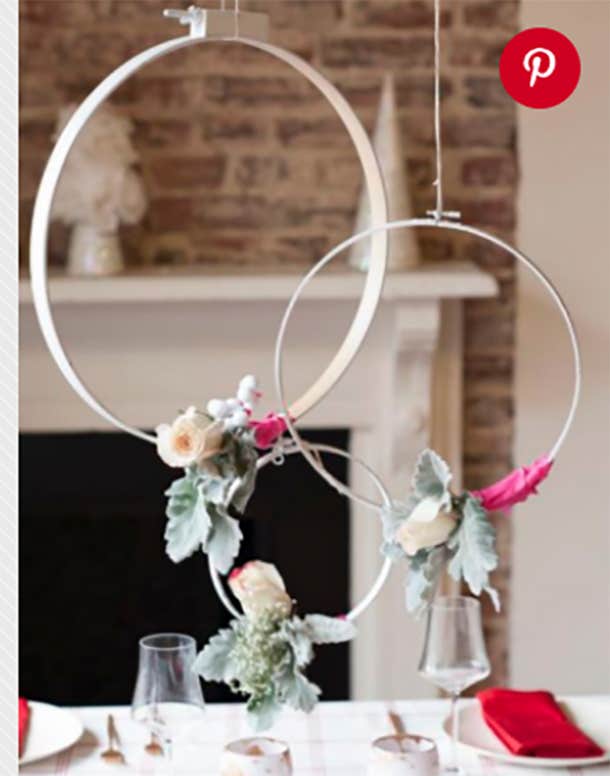 via HGTV
What you will need:
These hanging gardens are easy to make and turn every table into an enchanted forest. Floral threads and fresh flowers turn these hoops into a truly fitting centerpiece for a whimsical wedding. Use the floral tape and thread to tie the dusty sucker and fresh flowers around the hoop. Hang it from a transparent fishing line in your event space.
13. A bowl of seashells for couples who love the beach.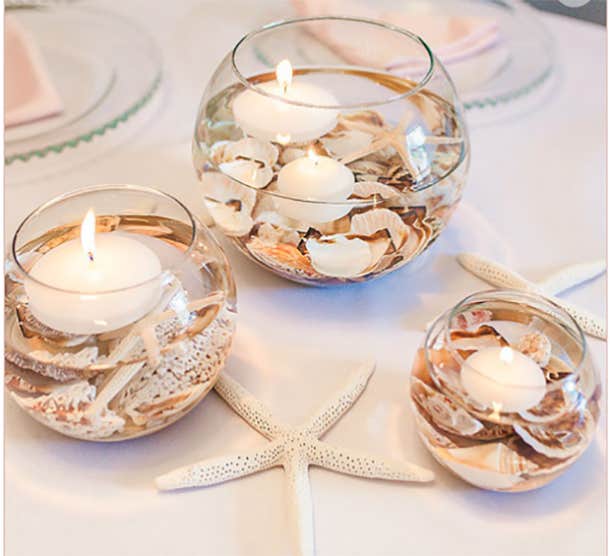 via DIY Bridal Shop
What you will need:
This romantic centerpiece is perfect for any bride and groom who wants to bring a beach vibe to their wedding. They are extremely easy to make and create a romantic atmosphere at the table. Whether you're celebrating the seaside or being landlocked in Missouri, bring the beach to you. Just put the seashells in the bowl and fill it with water. Top it off with a floating candle.
14. Bottle holder with flowers for a country look.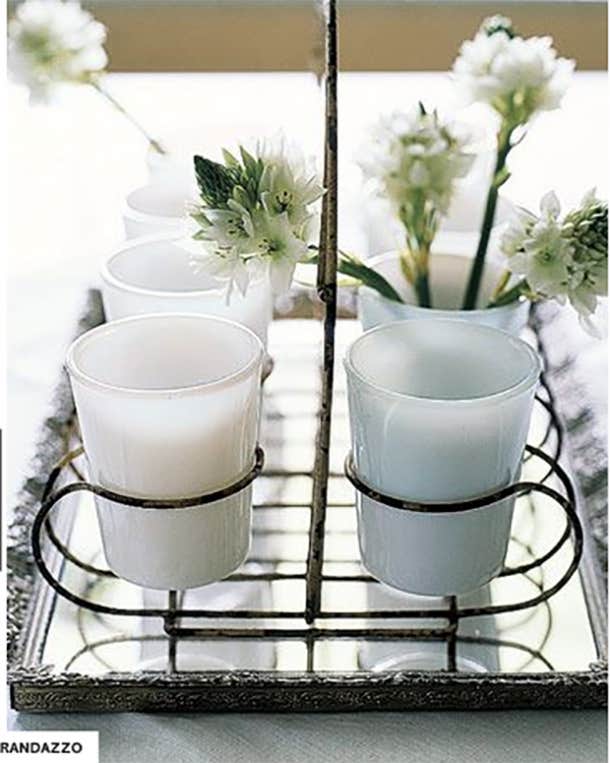 via Country Living
What you will need:
For a rustic touch, try this floral bottle holder arrangement. You can choose the color and size of the tumblers you want, just be sure to accent it with beautiful, fresh flowers. This is an interesting take on a traditional flower vase centerpiece.
15. Teacup gardens for a delicate bride.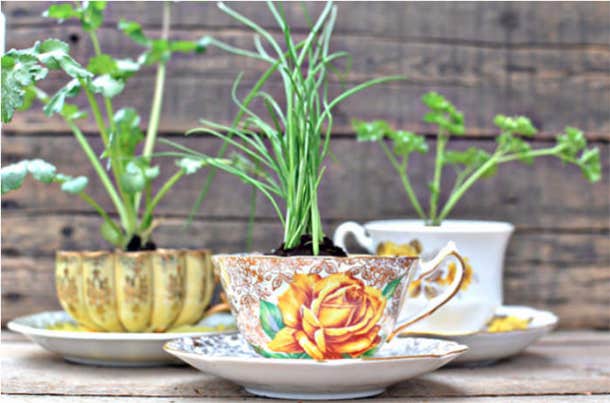 via intimate weddings
What you will need:
For anyone who loves tea or Alice and Wonderland, these centerpieces will be perfect. You can get creative with the designs of tea cups and the flowers you put in them. Choose herbs, succulents, or something with a little more color.
More for you on YourTango:
Creating your own wedding centerpieces instead of buying can make wedding planning fun again. Ask your bridesmaids for help or make it part of your bachelorette party. Do something you'll be proud of!
YourTango can earn an affiliate commission if you purchase something through the links shown in this article.